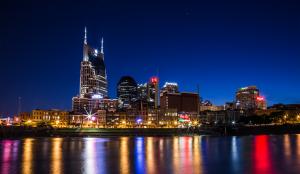 Just about 5 years ago I was in Chicago shooting photos and decided to try my hand at long exposure photography.

I grabbed my tri-pod and headed to Buckingham Fountain, and started to practice. It took me about 30 minutes to capture what I thought was a nice image.

During this shoot I discovered "Blue Hour" which is actually only about 20 minutes, with most nights there being a 10 minute sweet spot. It happens about a half hour after sunset.

Now it's my favorite time to shoot. I have been to countless cityscapes to shoot at Blue Hour. I love seeing other photographers at the same spot as me, they wait for sunset, take a few photos and leave. Meanwhile I stay or arrive right about then, and wait that other half hour. I wonder if they even know what Blue Hour is, or do they just really love sunsets. I find in cityscapes especially that most sunset are not that spectacular. Doing landscapes yes, you can get some great shots, especially if you can see the horizon.

Anyways if you haven't tried staying past sunset to Blue Hour, give it a shot. Set your camera on a tripod, mess with the settings in manual and see what happens. Most of mine are shot at about 30 seconds with a variety of other setting depending on the shot.

Give it a try and let me know what you think, and take a look at my site, and see plenty of examples.

This is a image of Nashville TN.